UPDATED 8/11/2012 Added definitions for DNS along with other DNS tweaks, tools, etc.
UPDATED - 4/18/2012 Added definitions for dropped packets and jitter
UPDATED - 4/18/2012 Added definitions UPnP, HTTP, URL, port forwarding
UPDATED - 4/12/2012 Added information regarding what makes for a solid gaming connection.
ORIGINAL POST - 4/12/2012
A few days ago a few of us in party were talking about other family members hogging up bandwidth and diminishing our game performance. Then we started talking more about routers, etc. And I've seen quite a few people here have troubles / issues with their setup - either performance wise or NAT, etc. etc.
So I've been thinking about doing a thread like this to try and help everyone. The biggest issue to overcome - the number of different routers out there. Some simply don't support some more advanced features like QOS (Quality of Service) aka Traffic Shaping.
So what I think i'll do is write up something generic in hopes of educating. Then later what I could do is - you post your router model here and I can tell you what your options are and/or help you tweak its settings.
This first write up will be targeted to the general novice and I'll do my best not to get too tech geek on you

First lets go over the basics.
DNS
- Domain Name System A system for converting hostnames and domain names into IP addresses on the Internet or on local networks that use the TCP/IP protocol. For example, when a Web site address is given to the DNS either by typing a URL in a browser or behind the scenes from one application to another, DNS servers return the IP address of the server associated with that name.
ISP
- Internet Service Provider
DSL
- Digital Subscriber Line
WAP
- Wireless Access Point (aka Wireless Router)
Router / DSL Modem
- Chances are you have one of these devices. It's the first thing plugged into whatever Internet service you have. It's job is to "route" traffic to/from the Internet and also between other devices on your network. Think of network traffic as letters or mail. The router sifts through all the mail and delivers it to the proper recipients.
QOS / Traffic Shaping
- quality of service - what this does is prioritizes different types of data or specific device data over all other traffic on the network. Think of Fedex travels faster to a location vs. Parcel Post.
Network
- a means of connectivity for devices to talk to each other
IP Address
- a numerical value assigned to a device on a network (e.g. 192.168.0.1) think of this like an address plate on your home or mail box. Each house (or device) needs an address so it can send / receive mail (data / traffic)
Firewall
- for any of you DIY builders out there you may have heard of this term. Think of it as a virtual wall that blocks and filters traffic to/from devices and / or the Internet.
DMZ
- Demilitarized Zone - think of this as a virtual badlands where anything goes, no rules, no restrictions, DMZ's are typically used in the rare instance a device needs to access / talk directly to the Internet without any restrictions or rules from a firewall.
NAT
- Network Address Translation / Translator - is the translation of an Internet Protocol address (IP address) used within one network to a different IP address known within another network. One network is designated the inside network (aka private / your home) and the other is the outside (public / Internet). Typically, a router will map its local inside network addresses to one or more global outside IP addresses and unmaps the global IP addresses on incoming traffic back into local IP addresses. This helps ensure security since each outgoing or incoming request must go through a translation process that also offers the opportunity to qualify or authenticate the request or match it to a previous request. Why do this? There are a finite number of IP addresses (roughly 16 million and change) so there is no way every single device in the world could have a public / Internet IP address. NAT conserves on the number of global IP addresses that a company / user needs and it lets them use a single IP address in its communication with the world.
PING
- the elapsed time it takes for one device to send / receive data to another, often displayed in milliseconds (ms)
URL
- Uniform Resource Locator - its the unique address for a file that is accessible on the Internet. A common way to get to a Web site is to enter the URL of its home page file in your Web browser's address line.
HTTP
- Hypertext Transfer Protocol - the set of rules or protocol for transferring files (text, graphic images, sound, video, and other multimedia files) on the World Wide Web. As soon as a Web user opens their Web browser, the user is indirectly making use of HTTP. HTTP is an application protocol that runs on top of the TCP/IP suite of protocols (the foundation protocols for the Internet).
UPnP
aka Universal Plug N Play - Universal Plug and Play (UPnP) is a standard that uses Internet and Web protocols to enable devices such as PCs, peripherals, intelligent appliances, and wireless devices to be plugged into a network and automatically know about each other. With UPnP, when a user plugs a device into the network, the device will configure itself, acquire a TCP/IP address, and use a discovery protocol based on the Internet's Hypertext Transfer Protocol ( HTTP ) to announce its presence on the network to other devices. For instance, if you had a camera and a printer connected to the network and needed to print out a photograph, you could press a button on the camera and have the camera send a "discover" request asking if there were any printers on the network. The printer would identify itself and send its location in the form of a universal resource locator ( URL ).
The camera and printer would use Extensible Markup Language ( XML ) to establish a common language, or "protocol negotiation", to talk to each other and determine capabilities. Once a common language was established, the camera would control the printer and print the photograph you selected. Microsoft, one of 29 companies sponsoring UPnP, hopes that UPnP will make it as easy to plug a device or appliance into a home or small business data network as it is to plug a lamp into an electrical outlet.
Universal Plug and Play is an open industry standard that Microsoft, a leading promoter of the standard, describes as "seamless proximity networking" that provides "standardization on the wire rather than in the devices," using existing Internet standards.
Port Forwarding
- A port number is a way to identify a specific process to which an Internet or other network message is to be forwarded when it arrives at its designated host. In home networking, port forwarding, also called port mapping enables you to create a permanent translation entry that maps a protocol port on your gateway machine (cable modem / router) to an IP address and protocol port on your private network. It's a transparent process, meaning network clients cannot see that port forwarding is being done. This process enables you to run a public Internet service on a machine that is otherwise hidden from the Internet by your gateway.
WAN
- Wide area network. Typically the link between other networks (not devices). The link between the Internet and your router is commonly called a "WAN link".
Packet Loss / Dropped packet
- each piece of data being sent / received is called a packet (there are smaller portions inside that make up a packet but we'll keep it simple for now and just talk about the packet as a whole). Packet loss means exactly that - somewhere in the line of communication a packet is "dropped" or lost. Packet loss is bad. It means a device is having to resend or start over its transmission because the intended host didn't receive it. How can it be stopped? Well yet again most times this happens outside of your network so you're at the mercy of your ISP and their infrastructure. Most routers keep track of this sort of thing - mine will tell me how many I've dropped wirelessly (on my network) and it'll also tell me how many were dropped on the WAN (Internet) side.
Jitter
- this is a term used define how stable or consistent your connection is. It's the variation or deviation of pings. You can have a low ping but if it varies all over the place constantly (jitter) you may experience issues with streaming video or online gaming. Acceptable values - of course zero is perfect 20ms is average 50ms+ we're starting to get into dark waters. 100ms+ jitter and we have some serious issues. Again I hate to sound like a broken record but if you're experiencing high jitter you could be at the mercy of your ISP and their infrastructure. What causes jitter? Overloaded networks / network devices. Improperly configured network devices on the ISP side. Cheap / bad equipment on the ISP side.
Below are some great visual aids on how networks / routers work. In my next post I'll go more in depth of configuring and tweaking.
Here is a basic layout of a typical home network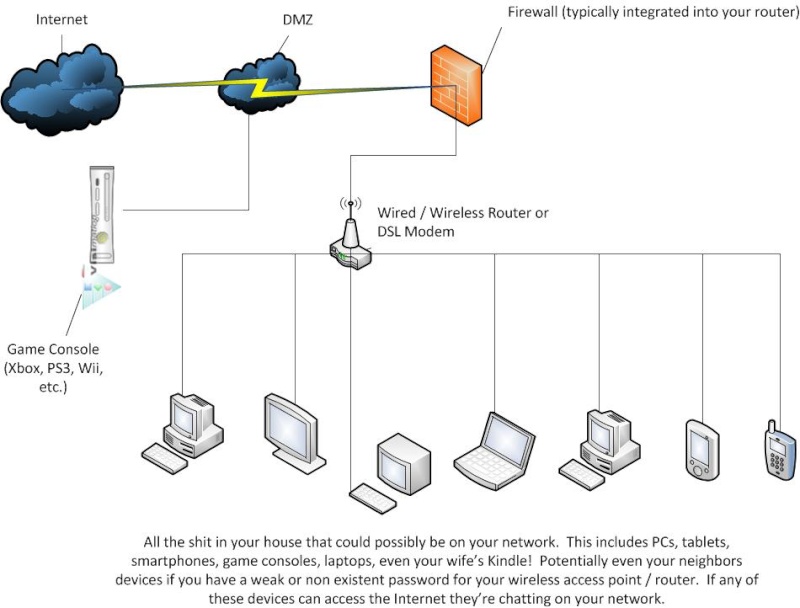 This is a great video that was shown to me many years ago when I was studying for my Microsoft Certification.
WHAT MAKES A UBER CONNECTION?
Many times people often think if they upgrade their maximum bandwidth that their games will perform better. That is not necessarily true. The absolute defining factor for online gaming is your latency or lack thereof (aka PING). The lower your ping / latency the more seamless the game will play (pure network basics we're not talking about any type of lag compensation here).
Typically when someone upgrades their ISP entirely (like SrSlampiece) often you'll see an improvement. That is not because of more bandwidth its because that service / circuit has lower latency. A typical DSL subscriber will see 50 to 100ms of ping. Your typical cable internet provider will net you 20 to 50ms (varies). FIOS or similar I've seen 3ms. My cellular Internet provider is 100 to 200ms. Your average hand eye reaction time is around 180 to 250ms. So you can quickly see how you can get out gunned real quick. If player A has a 5ms ping and I'm at 200ms - if we both pulled the trigger at the exact same time (assuming aim was the same as well) I'd lose every time because of the latency it takes for the game to register my actions.
How can you reduce latency?
Well some of it is introduced on your own home network and some of it falls on the mercy of your ISP. I'll go into this further next post.